Automation and Robots: Companies want more human workers
Wednesday, October 2, 2019
Skills revolution is in full swing and robots are helping boost productivity.
However, quite contrary to the apparent focus on the fact that robots are replacing humans, this research by ManpowerGroup shows more Indian employers than ever - 76% - plan to increase or maintain headcount as a result of automation for the third consecutive year. Rather than reducing employment opportunities, organizations are investing in digital, shifting tasks to robots and creating jobs. At the same time, companies are scaling their upskilling so their human workforce can perform new and complementary roles to those done by machines.
Hard to Find - Harder to Teach
Demand for tech and digital skills is growing across all industries and functions yet employers place increasing value on human skills as automation scales and machines prove better at routine tasks. While 15% of organizations say it is difficult to train in-demand technical skills, 29% said it is even harder to teach the soft skills they need such as analytical thinking and communication. Candidates who can demonstrate higher cognitive skills, creativity and the ability to process complex information, together with adaptability and likeability, can expect greater success throughout their careers.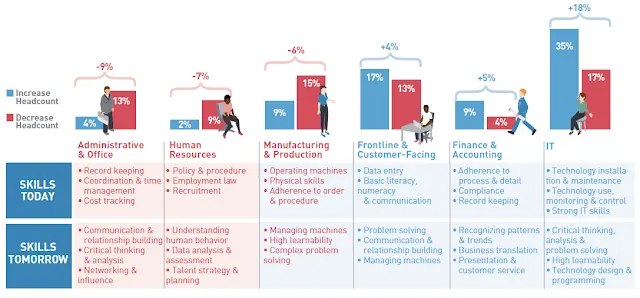 Companies now need more human workers with a very different set of skills. This demand for human workers is growing by the day and companies are adopting innovative strategies to fill in the talent shortage. Majority (75%) of the Indian employers are pursuing one or more talent strategies to secure the skills they need and companies with a plan are more confident of expanding their headcount than those that are hesitating.

Build: Companies are realizing the fact that just in time talent will no longer be available even if they pay the premium for it. Upskilling existing employees is the sustainable way of building and retaining talent. Buy: While building is a wise way of solving talent shortage issues, employers are ready to offer higher salary packages to hire and retain the sought after talent. Borrow: Alternative or part-time labor is the trend of the NextGen workers and employers are offering alternative ways of working. Bridge: Reskill. Reassign. Release. Creating pathways for employees to move around the organization as they skill up is important for both the parties. Those whose skills are no longer matching the requirements of the employer must be allowed to move with due respect and compassion. But to really compete in the Skills Revolution, the leaders MUST promote a culture of learning, provide career guidance and offer short, focused upskilling opportunities. Employees need to know how to prepare for high-growth roles of the future and that their employer supports their learning. We hope this article is helpful! If you need consultants for the IT Service for your company, or want to read more blogs related to recruitment, Placement & HR Consultancy visit ManpowerGroup India.