Home
>> Thought Leadership
New from ManpowerGroup
Our perspectives and insights on the key issues and trends shaping the world of work, today and tomorrow.
World of Work Insights
Our thought leadership explores the issues, trends and challenges impacting organizations and individuals around the globe.
Human Age 2.0 - Future Forces at Work
The Great Recession and the protracted, uneven recovery reveal how longer-term structural trends have altered global markets. In this new normal, economies continue to grind in low gear, especially.
Learn More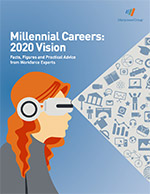 Millennial Careers - 2020 Vision
More than half of job seekers across the globe feel an employer's brand/reputation is more important today than it was five years ago. Read the latest research insights to understand the important trends and country-based differences driving today's global candidates.
Learn More
Workforce Expertise
Our nearly 70 years of experience and expertise allow us to provide insights into the critical workforce issues facing companies every day.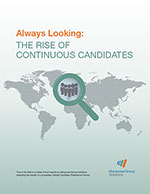 Always Looking
Loyalty is one of the most desirable attributes in employees and potential employees. Yet, the rise of a new group known as "Continuous Candidates" can make retention more challenging. ManpowerGroup Solutions explores how employers can better understand the Continuous Candidate mindset and enhance their efforts to attract and retain the best and brightest employees.
Learn More
Data Driven Workforce Insights
Data-driven studies and research delivering insights for decision-making.