Home
>> Thought Leadership
New from ManpowerGroup
Our perspectives and insights on the key issues and trends shaping the world of work, today and tomorrow.
World of Work Insights
Our thought leadership explores the issues, trends and challenges impacting organizations and individuals around the globe.
Workforce Expertise
Our nearly 70 years of experience and expertise allow us to provide insights into the critical workforce issues facing companies every day.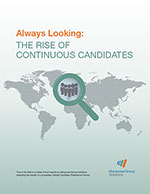 Always Looking
Loyalty is one of the most desirable attributes in employees and potential employees. Yet, the rise of a new group known as "Continuous Candidates" can make retention more challenging. ManpowerGroup Solutions explores how employers can better understand the Continuous Candidate mindset and enhance their efforts to attract and retain the best and brightest employees.
Learn More
SkillsInSight
SkillsInSight is a proprietary ManpowerGroup assessment that provides individuals with an engaging experience and immediate feedback, and organizations with insights on an individual's likely fit for a role.
Learn More
Data Driven Workforce Insights
Data-driven studies and research delivering insights for decision-making.